It's finally here. We leave tomorrow morning to fly down to Southern California and eventually, visit Disneyland. I've made lists of everything to pack and I think I'm 95% sure what I'm going to wear. Allie keeps emptying the suitcases though so I can't say that we're packed. I also found her sitting in my suitcase trying to chew on my straightener so I think it's safe to say she's not the most effective helper when it comes to packing.
I don't think my excitement can be matched. And I totally get it, some people hate Disneyland. I'm not sure why... maybe they had a bad experience with happiness as a child? Just kidding... it's obviously not for everyone. Maybe it's like how I feel about puppies. Smelly, messy and not worth the trouble. Don't hate me, it's pretty much how I feel towards all animals.
But I digress. My feelings toward Disneyland are not like something that just recently happened. I remember being much younger (like 6 years old) and hardly being able to sleep a wink the night before going to Disneyland. My outfit would have been planned down to my matching socks and underwear. (Yeah, I started that habit at a young age.) I would be wearing my spiffy new L.A. Gears with the double laces. I would have my fanny pack ready to go with my autograph book, an assortment of Disney character pens and my special flavored Bonne Bell lip gloss that I'd been saving for a special occasion. I would mentally plan out how the day would go, what rides we'd hit, the junk food I'd eat, the souvenirs I'd buy with my saved up allowance.
Speaking of souvenirs... One that I ALWAYS wanted was a Disneyland charm bracelet. It didn't look exactly like the one below because I remember it had Tinkerbell and the Sleeping Beauty castle. I also remember it was always out of my price range. I never did get that charm bracelet. Not that I'm bitter or anything but... someday I'll force one on Allie so I can live vicariously through her.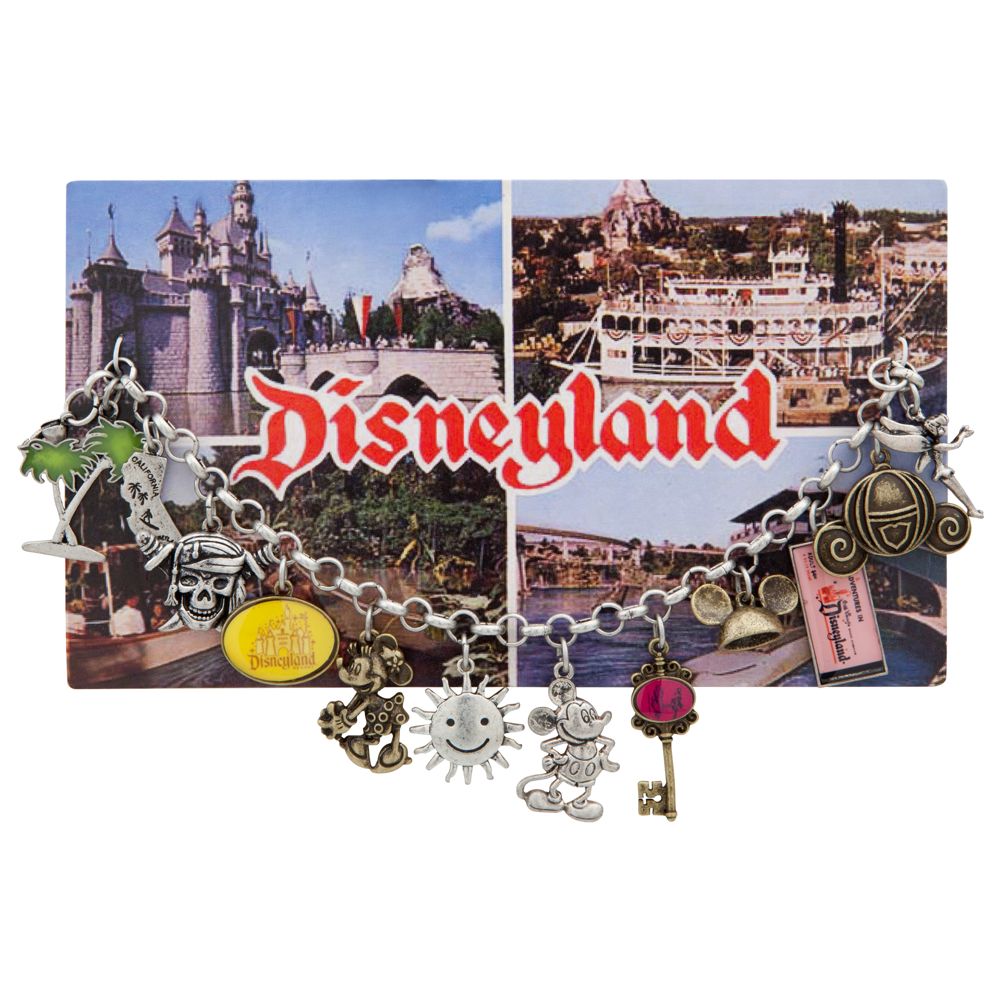 All that to say on a more serious note, I'm sitting here reflecting on what a blessing it is. God has made it possible for us to enjoy something that we entirely don't deserve or need, but He's allowing it just the same. In fact, it's because of His blessing us with Brian's new job and loving parents that spoil us that we are able to do this at all. It's just a good reminder of who causes all things to happen, good or bad and who pours out His grace on us -- even when we don't deserve it.
And because ending on a serious note is so not me...
DISNEYLAND OR BUST Y'ALL!!!
P.S. You can follow me on
Instagram
to see the pics I'll be posting of our trip (aka pics of Allie wearing Disney gear, cool decorations at Disneyland, and me being overly excited and eating yummy food)