Well, we have a new home! We're not moving anytime soon because there's quite a bit of work that needs to be done first (like remove carpets and popcorn ceiling, paint, etc.). But I am in super planning mood and shopping like crazy! But not for super fun stuff, like clothes. :D For boring house stuff like flooring and paint colors.
Speaking of paint colors, I'm torn. I want to just do everything white because a) it'll save money b) it'll help the downstairs and bathrooms look light and bright since they don't get a ton of natural light, and c) it's easier than picking colors for each room. But then I saw all these pictures of rooms with dark navy accent walls or light blush pink half walls and started thinking it might be cool to do something like that? I'll save that for another post.
Anyway, while I was working on some moodboards, I saw a rug from Target that looked very similar to the one
I blogged about from West Elm
a long time ago but at like 1/8 the price! The muted colors were perfect for the girls room while still incorporating some pink which will make the girls super happy so win-win-win. I will be returning my previous purchase and this one is already on the way... (plus it's on sale with an additional 10% off!)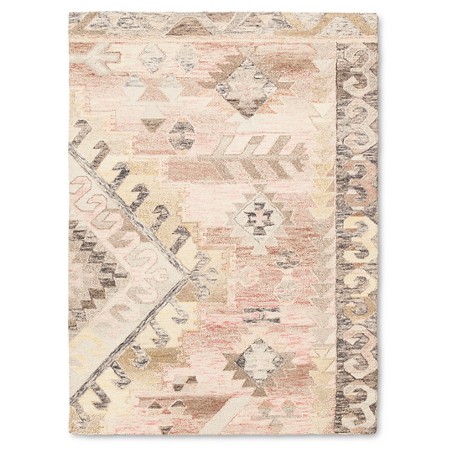 And an updated moodboard because it's really more for me than anything.